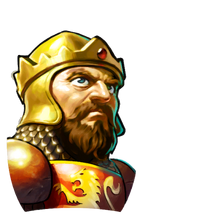 Richard I was a warrior king of England, fighting near constantly from the age of 16, primarily in battles of the Third Crusade.
Richard the Lionheart's Inspire special ability temporarily increases the damage and speed of nearby infantry units.
| Prefered Target | Attack Type | Attack Speed | Movement Speed | Units per Squad | Ability |
| --- | --- | --- | --- | --- | --- |
| Towers & Siege Weapons | Melee |  ? |  ? |  ? | Inspire |
Strengths
Can inspire nearby units to give bonus attack against opponents
Used to inspire units in rush attacks, in combination with Belsarius
Weaknesses
His health is too low.
Can`t do much damage without heavy infantry.
Offensive Strategy
Increase the attack power of the troops in the surrounding
Use his ability and enough foot soldiers to rush your opponent`s castle once you are able to drill a hole through the wall into opponents castle.
* First level free for a Hero of your own Civilization.